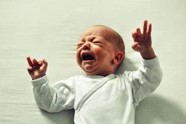 Managing Crying Babies:
Comparing the Effects of a Multi-strain Synbiotic with those of Simethicone
Keywords
infantile colic, extensive crying, gut microbiota, probiotic, synbiotic
Project Outline
Status: Our project "Managing Crying Babies: Comparing the Effects of a Multi-strain Synbiotic with those of Simethicone" is work in progress. Operational research has been finished and the study manuscript is currently under review for publication in a peer-reviewed scientific journal.
Objectives: Our research project aims to provide answers to the following questions:
Diagnose infantile colic in newborns using Wessel's criteria.
Investigate how the crying behavior of babies diagnosed for infantile colic is influenced by treatment with either Simethicone or Multilac Baby. Multilac Baby is a synbiotic containing nine different probiotic strains and the prebiotic fructooligosaccharides.
Remarks: This clinical trial has been approved by the Ethical committee of the Univeristy in Kalisz (project identification code 01/2020) and has been registered at ClinicalTrials.gov (registration number NCT 04487834).